Monetizing 240M adblocked impressions for AccuWeather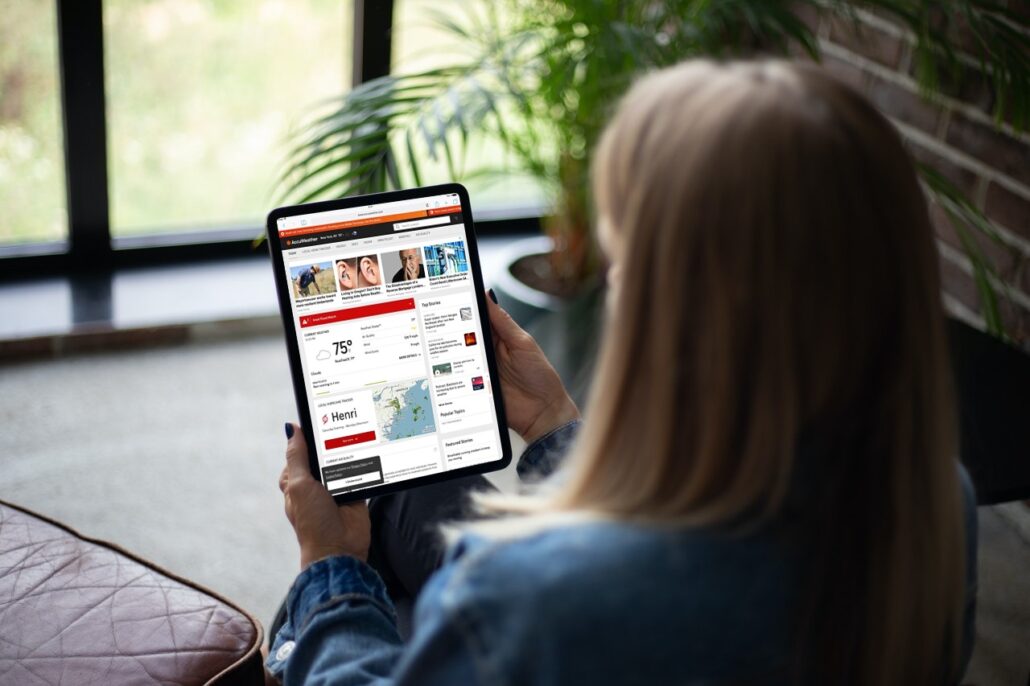 With global headquarters in State College, Pennsylvania, and other offices around the world, AccuWeather is a global leader in commercial weather forecasting and serves more than 1.5 billion people every day through its digital media, including free mobile apps, website, mobile web, as well as radio, television, newspapers, digital out of home, the national 24/7 AccuWeather Network channel and the new AccuWeather NOW streaming service.
Weather forecasting, trusted by millions
AccuWeather runs a free, advertising-supported website, accuweather.com, which directly reaches over 250 million users globally each month. According to Similarweb site analytics data, accuweather.com is the 50th most popular website globally, 33rd most popular website in the U.S., and holds the first position within its site category (science and education).
With an audience that large, several million AccuWeather users opt to block ads, limiting monetization opportunities. "I wouldn't characterize adblocking as a problem—rather an opportunity to understand what, if anything, we are doing as a publisher that could be contributing to users implementing ad blocking," says Steve Mummey, SVP of Digital Ad Revenue and Technology at AccuWeather. "Addressing ad blocking has been on our radar for several years now in an effort to better meet our users' needs."
AccuWeather discovered Blockthrough from a common industry connection and decided to evaluate Blockthrough's Acceptable Ads solution.
Finding a better alternative to "adblock walls"
"We tested a handful of solutions, including a message wall approach, before we ultimately decided to go with Blockthrough," says Mummey, "While we did see a conversion rate of around 10 percent, we felt the combination of the friction of a message wall, plus the code needed to run the wall, ran counter to our broader goal of providing the most accurate weather forecast to all users as fast as possible. This is why Blockthrough's solution made the most sense for us."
"We chose Blockthrough for the team and their thoughtful approach to both revenue and user experience."

Blockthrough's solution helps publishers restore their existing programmatic demand (including direct) on their adblocked inventory by filtering the demand for compliance with the Acceptable Ads Standard¹. Compliant creatives are then served to adblock users who have opted in to view light, non-intrusive advertising via their adblocker's settings.
This effective approach enables publishers to monetize more than 80 percent of all adblock users who visit their sites, without interrupting them with pop-ups or whitelist requests (which 68 percent of users end up rejecting²).
Integrating with Blockthrough is easy; AccuWeather inserted a single line code into the header of its website. This integration code is 2kb in size and has virtually no impact on page load speed. Once set up, it detects whether or not visitors are using an adblocker, and if yes, whether or not they have opted into Acceptable Ads. Based on those conditions, the script either shuts off or generates ad requests to serve Acceptable Ads via the publisher's demand.
240M adblock impressions monetized
By using Blockthrough, AccuWeather was able to seamlessly restore its existing programmatic and direct demand on its adblocked inventory. In the 10-month period between July 2020 and April 2021, AccuWeather served just over 240 million ad impressions to opted-in adblock users.
In this time period, AccuWeather witnessed a 58 percent lift in RPM and a 79 percent lift in CPM on its adblock traffic. Improvements in these key metrics together more than doubled the monthly ad revenue that AccuWeather is able to recover from its adblocked inventory.
"We chose Blockthrough for the team and their thoughtful approach to both revenue and user experience," says Mummey. "While there are many philosophical stances one can take when it comes to ad blocking, Blockthrough's integration allows us to not only unlock revenue with Acceptable Ads but also enables the ability to have a conversation with our users."
—
¹ The Acceptable Ads Standard defines a lighter advertising experience that excludes heavy, intrusive, and interruptive formats as a means to allow publishers to continue working within the ad-supported model of the Web while protecting adblock users from bad ad experiences. Adblock users can opt-out of seeing Acceptable Ads at any time, but >90 percent choose not to.
² Based on a survey of 5,423 US Internet users presented in the 2021 PageFair Adblock Report
Did you know that the average publisher loses 10-40% of their revenue to adblocking? What you may not know is that adblocking has largely shifted to ad-filtering, with over 250M users allowing a safer, less interruptive ad experience to be served to them—in turn supporting their favorite sites and creators.
Blockthrough's award-winning technology plugs into publishers' header bidding wrapper and ad server to scan ad creatives for compliance with the Acceptable Ads Standard to activate this "hidden" audience and generate incremental revenue, while respecting the choice and experience of ad-filtering users.